FEATURES.AZERO
No more wallet addresses
Create a unique on-chain identity with AZERO.ID
Unified Web3 identity
Start your crypto journey with a domain and utilize your new on-chain identity for endless use cases.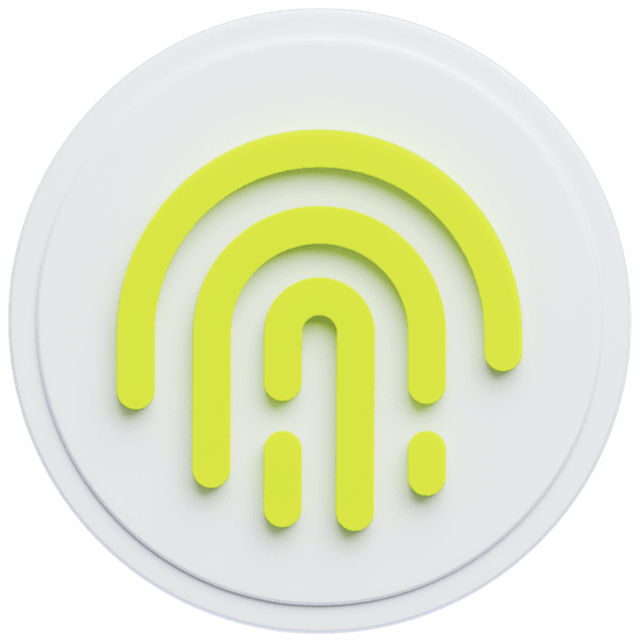 Privacy-preserving domains
The first-ever on-chain domain service that keeps your wallets and transactions private. Powered by Aleph Zero's unique privacy framework.
On our roadmap
Modular metadata
Attach social handles, credentials, wallet addresses, and zk-attestations to your domain.
Personalized website
One link to share all your social profiles, showcase NFTs, and more. Comes with each domain.
Trustless subdomains
Issue subdomains & explore limitless opportunities to manage your community, employees, or NFT collection.
On our roadmap
Fully user-owned NFTs
All domains are represented as NFTs on the blockchain with full user custody. The protocol itself is aiming towards complete decentralization.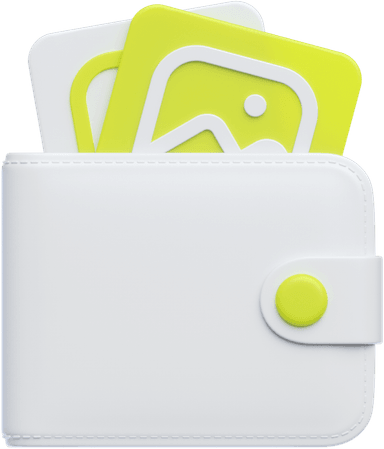 Trade on Artzero.io
Auctions
Bid on exclusive domain names to set yourself apart in the digital world. Available soon as part of our native domain marketplace.
For trading domains right from the beginning, we officially partnered with ArtZero.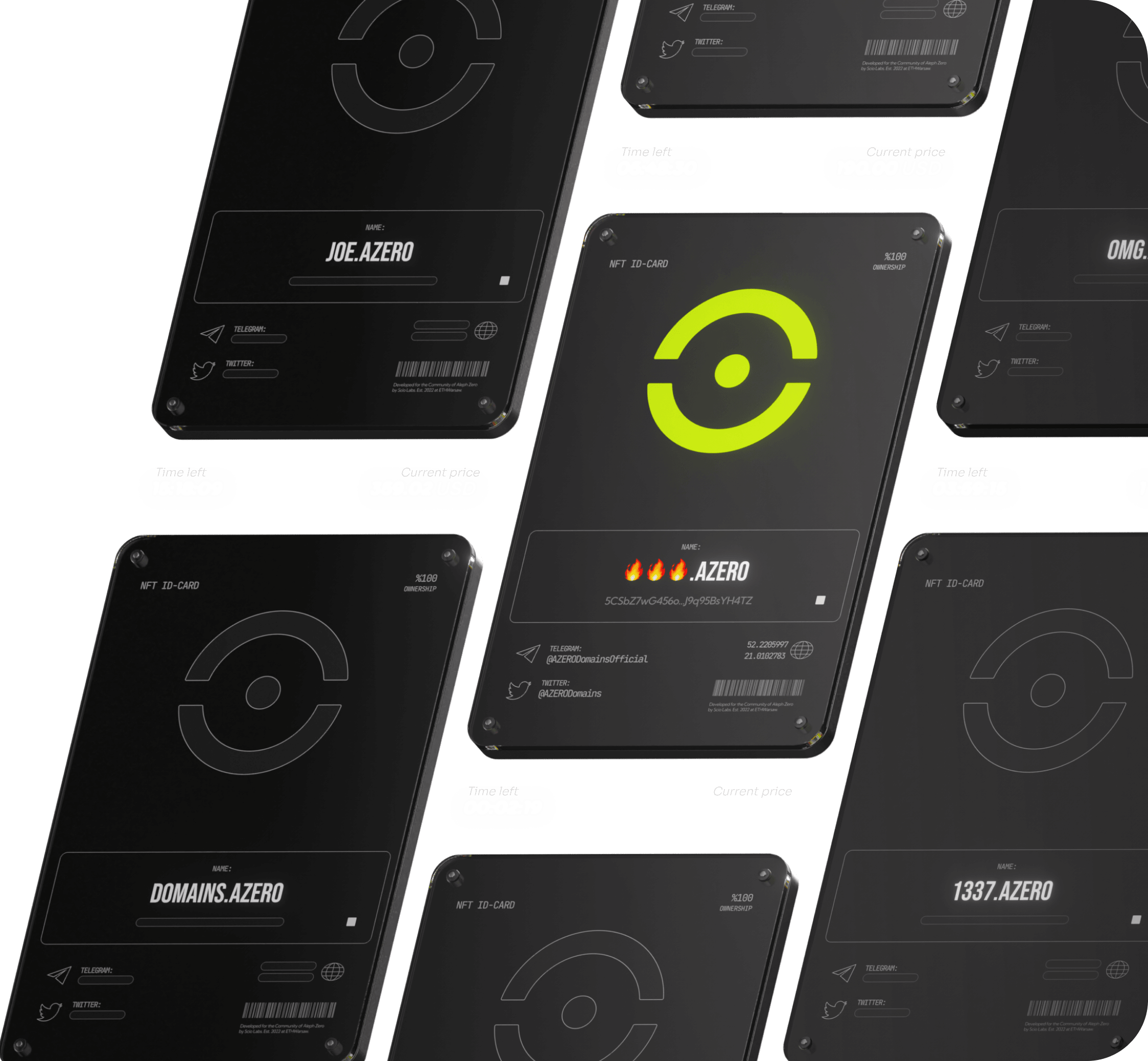 Use Cases
One identity for everything you can imagine
Make private payments
Send tokens from domain-to-domain while keeping your address private. Utilize your identity without exposing the assets you hold or the actions you take.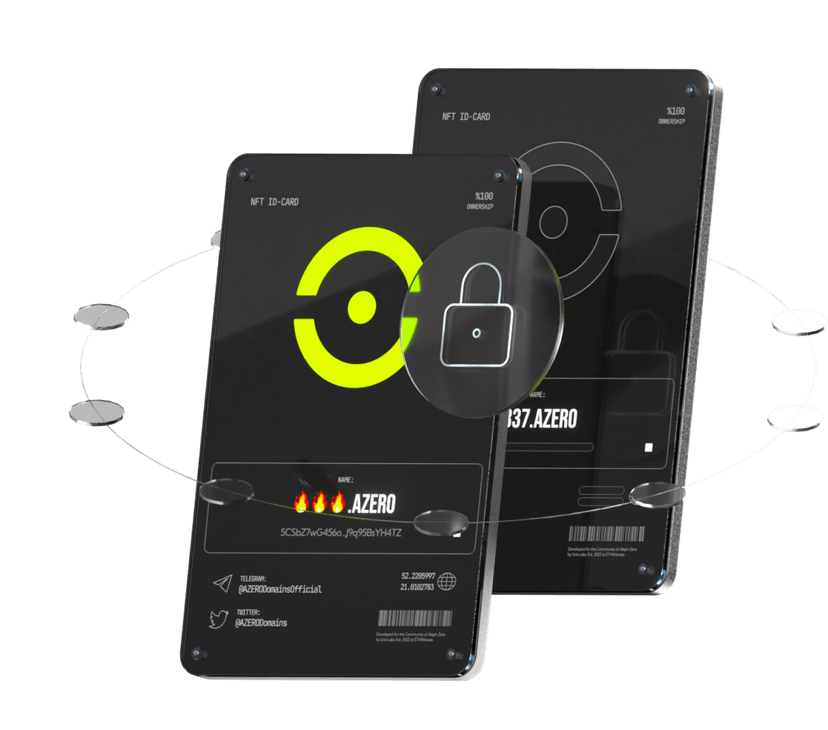 Multiverse
The future of domains on Substrate is starting on
Aleph Zero
From privacy-preserving domains powered by Liminal, to the universal domain system for the whole Dotsama ecosystem via XCM.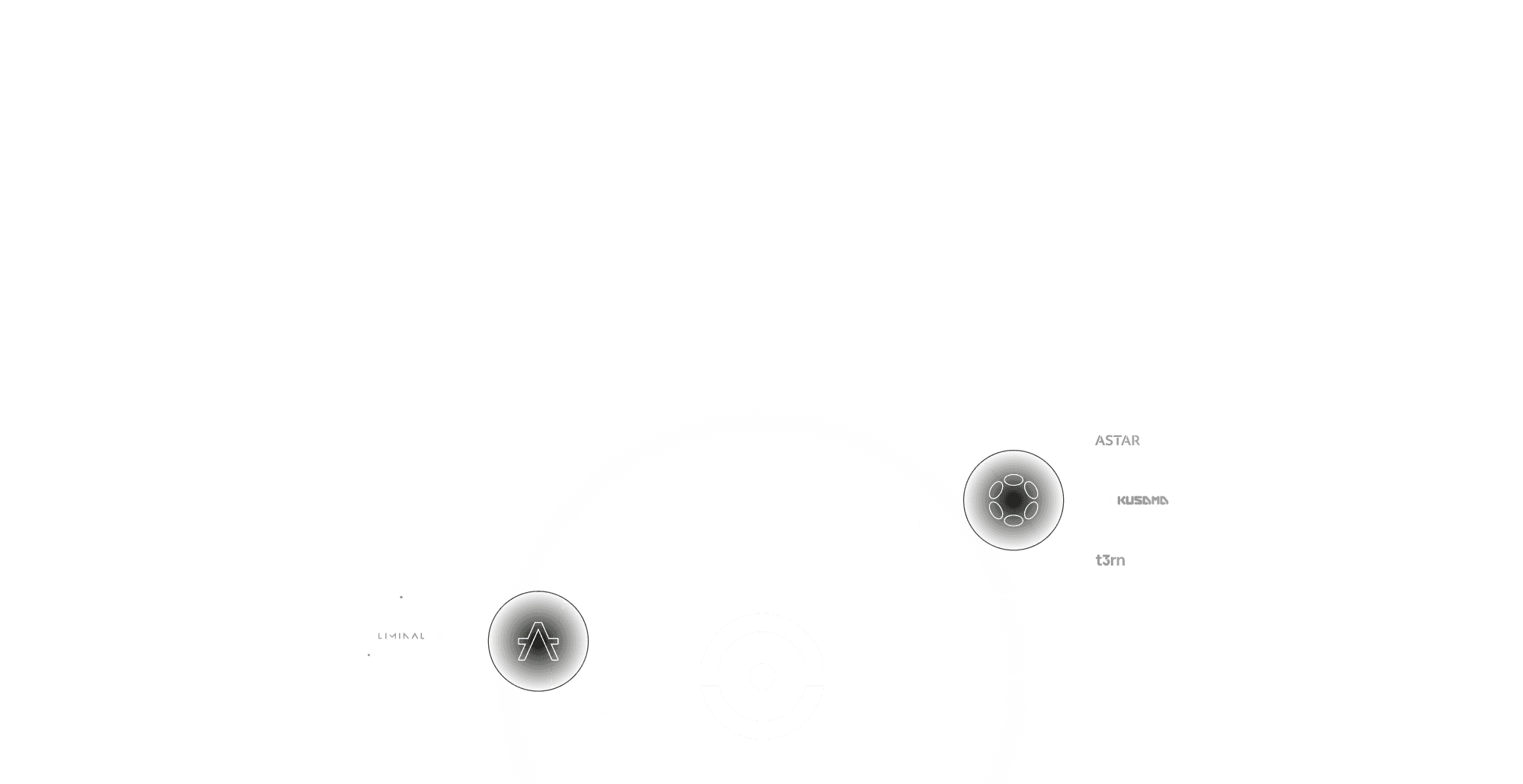 Ecosystem
Partners & Integrations
Developer
Become a part of our ecosystem
Join us in building the future of on-chain identity.
Frequently asked questions
Haven't found the answer to your question? Take a look into our docs or join one of our community channels.
Roadmap
Q3/2022
Hackathon winner at ETHWarsaw 2022
Q3/2022
100k+ registrations on the testnet
Q3/2023
Launch on the Aleph Zero mainnet
Soon™
Expansion to the Dotsama ecosystem
Soon™
Native domain marketplace
Soon™
Private domain-to-domain transfers
Soon™
Community governance
Stake with us
AZERO.ID has committed itself to support the decentralization of the Aleph Zero Network.
With our partner Swiss Staking AG, we provide a validator node with industrial-grade security & lowest-possible fees.
How to Stake